Wecome To Sonali Events
Sonali Events Pvt. Ltd is a firm which is established in patna since 2003. With its wings spread across all major cities of the country to take care of the local co-ordination and management. With this unended journey, simultaneously we have collected a lot of experience and constantly upgraded our strengths in all areas of event execution and event management. With a team of young, creative, dynamic & dedicated professionals, we have pushed all areas of event management to new frontiers, whether it is artist management, product launch, Exhibition, Road-show, Fashion show, wedding planning & celebrity management. The urge to deliver more than the client's expectations has always been our top priority. Hence, we are a "One stop shop" for any and every requirement to our wide spectrum of clients. Always our motto is to satisfy our clients in terms of providing the best services in competitive rates.
Roadshow services provided by us can simply be termed as fabulous. Our aim is to provide world class services that will not cost a fortune. We hold expertise in organizing road shows, that can reach out to a large number of audiences and get the product noticed.
We organize road shows on behalf of corporate houses, personal brands and many more.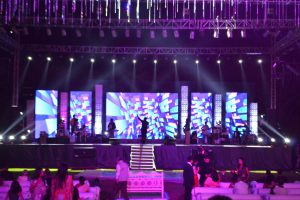 We specialize in providing intensive and equally exclusive event management services. We organize and manage a wide range of corporate events such as product launches, seminars, presentations, sponsorship events, wedding events etc.
Our experienced team organizes the event in a systematic manner within a limited time. Since inception, our aim is to save our clients' precious time, resources and money by offering satisfying services.
Our Work
Roadshow services provided by us can simply be termed as fabulous. Our aim is to provide world class services that will not cost a fortune. We hold expertise in organizing road shows, that can reach out to a large number of audiences and get the product noticed. We organize road…
We specialize in providing intensive and equally exclusive event management services. We organize and manage a wide range of corporate events such as product launches, seminars, presentations, sponsorship events, wedding events etc. Our experienced team organizes the event in a systematic manner within a limited time. Since inception, our aim…